Doosan Machine Tools, IMTEX 2019 Participant
2019-01-29
Doosan Machine Tools Co. (CEO: Jaeseop Kim) is participating in IMTEX 2019, held from January 24th through the 30th of 2019 in Bangalore, India.
The company exhibits 3 turning centers, including a high end and best selling model in the Indian market, as well as 4 machining centers to proactively respond to the rising demand in the Indian market. 1,100 companies from 23 countries participated in IMTEX 2019, the 19th edition of the biggest Indian machine tools exhibition hosted by the Indian Machine Tool Manufacturers' Association (IMTMA).
For Doosan Machine Tools, who joined IMTEX in 2007, this is their 6th participation at the exhibition and they are exhibiting new and various models targeting the Indian market and corresponding industries. In IMTEX 2019, the company is presenting two of its best-selling models in the Indian market; PUMA V8300, a high-productivity vertical turning center and VC 430, a high-speed twin table vertical machining center. LEO 1600, an affordable 2-axis turning center that will be unveiled in India for the first time and DEM 4000, a 40 taper & 5-axis machining center will also help penetrate the market.
Two additional models are presenting for the first time in India and they are the DVF 5000, a premium 5-axis machining center, and the PUMA SMX3100ST, a multi-tasking turning center. Considering the auto industry's rapid increasing demands, the company exhibits auto parts and aluminum wheels to draw attention from visitors with its new models and solutions. "Through IMTEX 2019, we will present new models customized for the Indian market and solutions for the auto industry, which will create added value to increase market shares in India, and to be a true global brand." said Jaeseop Kim, CEO of Doosan Machine Tools.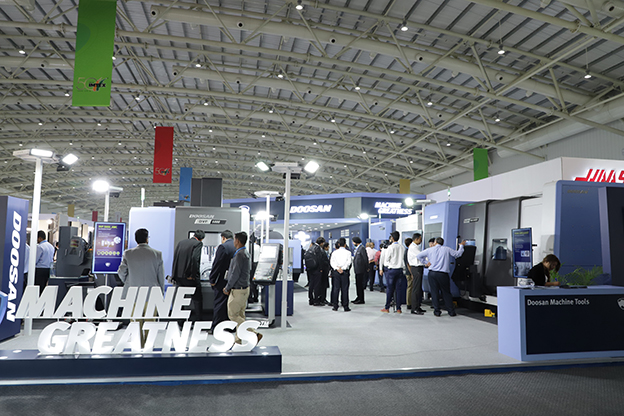 The New 5-Axis DVF 5000
Doosan Machine Tools features the DVF Series of compact 5-axis machining centers. The DVF Series takes its place in the company's lineup of vertical machining centers specifically designed for cutting diverse and complex shapes. The DVF 5000 comes standard with an 18000 r/min integral 40 taper spindle. A FANUC 31iB5 CNC controller makes full 5-axis simultaneous control possible, giving complete contouring capabilities. It also features a 500mm diameter (630mm option) built in rotary table. DVF 5000 offers a diverse range of tailored options and automation that make them ideal for unmanned machining. They come automation-ready and supplied with an optional/retrofittable AWC (Auto Workpiece Changer) which provides additional productivity by offering up to 12 pallets to feed the machine for unattended machining.
PUMA SMX3100ST, a multi-tasking

turning center featuring enhanced efficiency by adding lower turret
Doosan Machine Tools demonstrates its PUMA SMX super multi-tasking turning centers, which come with a lower turret for enhanced versatility and productivity. The turret is available on both the 10" chuck (PUMA SMX2600ST) and 12" chuck (PUMA SMX3100ST) models. Doosan's PUMA SMX Series is a twin-spindle, multi-tasking turning center built for completing complex parts in a single setup. Both turning spindles feature 0.0001° resolution on the C-axis for high precision contouring. The PUMA SMX series features a new turning and milling function equipped with a 12-angle high-rigidity servo-driven turret, in addition to the left and right spindles, B axis, and multi-purpose milling function, giving it a more powerful multi-tasking machining ability, while machining time can be reduced by up to 75% when producing small numbers of diverse items. In addition, turning, end milling, face milling, drilling, and tapping performances allow the operator to speedily machine every desired shape.

Best Value Compact Machine, LEO 1600 & DEM 4000
Doosan Machine Tools is presenting LEO 1600 (6-inch class lathe) and DEM 4000 (BT40 taper spindle and 400mm long Y axis) to target entry-level customers' simple cutting duties. With unnecessary provisions removed and affordable prices, these models will help create a new customer base from those who are starting a machining business or those that desire simple machining capabilities.